Looking For A New Garage Door Hinges?
Do you want to upgrade your garage door hinges because it is already broken or worn out? Then, call a reliable garage door hinges San Antonio Company. It is important to put safety of your property and loved ones on top of your priority. Garage doors have many working components, from springs and cables to tracks, rollers and hinges and many more. If one of the components malfunctions, your door might become inoperable. Changing broken or worn garage door rollers and bent or worn hinges will give smoother and maybe quieter operation. With regards to a broken, bent or malfunctioning hinges, trust the replacement and repair service to 1Choice Garage Door.
Getting to Know More About Garage Door Hinges
Garage door hinges come in various formats, thickness as well as sizes based on garage door dimension and when it is armed with windows or with entire-windowed panoramic parts. Garage door hinges are usually identified with numbers from one to ten showing their setup location on your garage door.
Can I Replace A Broken or Worn Out Hinge by Myself?
You can replace a worn out hinge if it is situated in the center of your garage door. Just ensure that the garage door opener is unplugged from electrical outlet or deactivated in order to avoid opening
the garage door with a remoter control during the repair process. On the other hand, we strongly suggest you call us immediately when you see that another garage door hinge is worn or on the threshold of falling off. Right away block entry to your door to make sure that nobody can utilize it. Then allow our expert do that replacement/repair job rather than undertaking it yourself.
We offer prompt garage door repair service as we keep essential replacement components in our store or warehouse. What is more, we assure both our job and our components which are changed. We will constantly check your garage door to adjust other parts that can fail. And when we see that there are other components that require changing, we will inform you prior to doing any work and give you with the right replacement cost.
Leave your Garage Door Hinges Replacement San Antonio to the Expert
Replacing garage door hinges could be extremely risky and must be done by a skilled professional. Often, you will discover various kinds of hinges at the top, middle, as well as bottom portions of the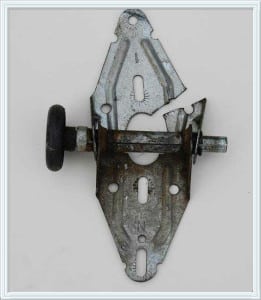 garage door. Contact and schedule garage door hinge repair and replacement service now to deliver the right replacement hinges with least fuss and all-out customer gratification – just the way you want it.
A garage door is incredibly significant in both commercial and residential settings, and that is why our technicians are always ready to provide high quality service to meet all your garage door needs. We can manage any garage door issues you might come across, whether it is on a basic housing door or a heavy-duty business door with lots of cycles. So, the next time you want garage door replacement hinges, call us at (210)-802-3590.
We the one-stop shop for all garage door repair issues you run into as property owner or homeowner. Our objective is to offer high quality repair and replacement services 24/7 at affordable prices. Getting reliable garage door hinges replacement San Antonio services for does not mean you have to empty your bank account.
Turn to 1Choice Garage Door for:
All kinds of garage door repairs and replacement: All of our service technicians are proficient and will precisely detect the issue when your door opener, spring, hinges worn out or stops working.  When we find the problem, we will give a sensible solution.  Our technicians are well equipped with equipment and tools to handle all problems, which include broken springs, cables, tracks, rollers, sections, hinges as well as noisy doors.
New Garage door Setup: We set up new, high quality garage doors openers and hinges. And can change your old broken door to provide your property an enhanced and new curb appeal.
Door Openers:  Are you aware that opening your garage door is an intricate operation? We provide garage opener and door replacement and repair services for the whole overhead system. Our technician could fix it on a same day with 100% customer satisfaction.
24/7 service appointments: We provide  same-day and 24/7 garage door service appointments as we know that you cannot foresee if your garage door is broken or will stop functioning. Call us any time, any day.
Safety inspections: When you are worried that your garage door is not safe, contact us for a 25-point, detailed inspection and check the entire operation and components.
Special Offers and Savings: We have great deals on hand. Please visit our site for more information.
Finding Garage Door Hinges Replacement San Antonio Service – Why Choose Us?
A lot of people or homeowners in San Antonio choose our services as of the mentioned reasons below:
We have qualified, trained and highly knowledgeable technicians

We offer 24/7 garage door services for fixing commercial and residential doors

Our wide range of garage door services assure complete customer satisfaction

You can find the best specialist in his neighborhood at a fraction of cost.

High quality services are certain and that is the reason why San Antonio residents trust us 
Take Benefit of 24/7 Garage Door Hinges Replacement San Antonio Services Online Today
We provide services for replacing and replacing almost entirely makes and models of garage door hinges. Aside from that we also offer cost-effective garage door repair care program for diverse types of issues. Apply online now to know more about our garage door repair and replacement services and also regarding the cost and price of our garage door service San Antonio.
For your security and the rest of the family, we highly recommend that you call our garage door specialist to assess the condition of your entire garage door mechanic or replace an imperfect component. Call us for a free written quote