Looking For Garage Door Rollers Replacement In Affordable Price?
Today's garage door opener is stronger and classier than ever and a worn or broken garage door roller could lead to significant damage to the garage door and related hardware. When you garage door creates loud annoying sound or noises when closing or opening, you must have it serviced right away. Garage door roller replacement could lessen serious garage door issues while saving you time and money long term. A loud garage door is a sign that there can be problems that may require instant attention. When garage door rollers are worn out or broken, you might want to look for garage door roller replacement San Antonio services as soon as possible so as avoid some emergency situation.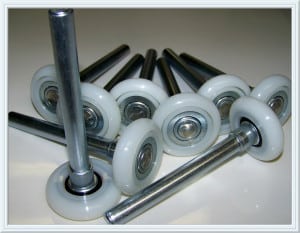 Broken garage door rollers might cause a considerable number of harm to your garage door and its diverse components. If garage door roller replacement or repair is done on time by an expert, you can keep garage door issues at bay and save time and money. Worn out or bent roller replacement is an important task and this job must just be allocated to experts.
If experts with suitable equipment or tools are not hired to repair or replace a garage door roller, the one who fix it on their own can result to injure themselves. Our experienced, skilled and well trained garage door staffs and technicians can change garage door rollers proficiently through using state of the art tools. You must abstain from doing these complicated tasks yourself as you might get harmed in the course.
The fact that our well-trained professionals work on each kind of garage door, San Antonio homeowners can repair or fix all types of broken or worn out garage door rollers and their issue will be addressed. There are a lot of people who try to fix faulty garage door rollers through greasing them. While this approach might work rarely, it is certainly not a solution.
Garage door roller replacement has been the privilege of professionals and the situation is implausible to alter in the coming years. Our specialized technicians are very much capable of detecting a problem which is linked to your garage door rollers. Once our well- trained professionals, who are one of the greatest and best providers in San Antonio, choose to work on your garage door roller issue, first they will conduct a detailed examination of the garage door rollers prior to taking any action. Garage door roller replacement could be dangerous, so call expert garage door roller replacement San Antonio Company
Replacing a broken or bent garage door roller can be complex and unsafe. So, we commend calling an expert when you see broken or worn garage door rollers. The specialists at (company) focus in these replacement and repairs. So as to effectively replace the garage door roller, the worn out hinge should be tipped and unbolted outward to unfasten the door roller from its track then do it again in opposite so as to re-setup the new roller. With no appropriate tools, this could be time consuming as well as potentially unsafe so we commend calling an expert garage door technician.
(company) has the experience and training and carry all kinds of springs, openers, drums, and components, and will patch-up your garage roller fast. Also a skillfully serviced garage door will upturn the lifespan of the automatic door. Call us to know more about our planned maintenance plans to avoid impending problems.
We are San Antonio's industry leader in door roller replacement and repair!
We service both commercial and residential properties. Our staffs are welcoming and will be there to aid you each step of the course. In case overhead door fails, our 24/7 emergency garage door roller replacement service line is always ready to manage any urgent questions that you might have. When your garage door fell off the track or the door spring just worn out or any issue with the opener, you can contact us now to fix or replace your garage door system. We are always ready to answer any questions connected to garage door roller replacement. Call us at (210) 802-3590.
Cost of Garage Door Roller Replacement In San Antonio
Most San Antonio home owners make the mistake of handling the garage door roller preservation lightly. Then again, our professionals can always spot the issue and offer the most appropriate solution prior to getting the issues worsen. After all, when minor problems are not addressed on time, the concerns can get worse and create more problems in the end. Furthermore, the cost of garage door roller replacement San Antonio is also minimal. In all likelihood, the garage door rollers replacement and repair must not prove to be an expensive affair.
Why Choose Us?
100 Percent Satisfaction Guarantee: Customer satisfaction is our main priority. When you're not satisfied, we will redo the job until you are.

Warranty: We provide 1 year warranty on our labor and prolong the manufacturer's warranty for all components.

High Client Approval Rating: A trustworthy business, we have an A+ rating with the Better Business Bureau

24/7 Emergency Garage Door Service: Our service is available 24 hours and 7 days a week all through the San Antonio area.

Many years of experience

We have the latest tools in garage door roller replacement and repair service.
There's no garage door roller repair and replacement job we could not handle.
When you're searching for top quality and special service, you are in the right place. Our focus at (company) we will provide you the attention and special service you will come to anticipate and enjoy. (company) offer the greatest garage door repairs and maintenance.
Please visit our site or contact us directly and we will ensure that your worn out garage door roller problem gets addressed quickly. Rest assured that the garage door roller repair and replacement San Antonio will be completed in the best way. For more information, you can contact our customer-care administrators and make all your worries on garage door roller services clear.