Overhead Garage Door
Overhead Garage Doors Service By 1Choice Garage Door Repair San Antonio
What is an Overhead Door?
An overhead garage door is one of the most common options for garage owners either for residential or commercial purposes. It's called an overhead door because it provides entrance by moving upwards into the ceiling of the garage. The most widely used types of overhead garage doors are the up-and-over, roll-up and sectional garage doors. Sectional garage doors are popular in the U.S. This type of garage door is composed of about 5 to 8 horizontal panels that are held together by hinges and fitted with rollers. The panels open vertically and curls upward just below the garage ceiling. There are typically two parallel tracks where the entire assembly can move about. Sectional panels run on heavy-duty torsion spring, which is used to counterbalance the garage door's weight. Sectional doors are originally operated manually, but nowadays homeowners are using motorized garage door openers, which run on chain, screw, belt or direct mechanism. The up-and-over is a more conventional type of garage door. It typically consists of a frame and a single panel, which is lifted up when opened and tilts just above the head. Unlike the sectional garage door, the up-and-over takes up space outside the garage opening to form a canopy cover. The roll-up garage door is commonly used in commercial spaces. They are typically made of corrugated steel and are among the most affordable options in the market. When opened, the metal strips that make up the door roll up to form a drum above the interior doorway of the garage.
Overhead Door Materials
An overhead door can be made of different materials, like steel, wood, aluminum, fiberglass or vinyl. Steel garage doors are usually made of double-skinned galvanized steel. The surface of the door is usually primed with a topcoat finish or covered with a composite material. Steel doors can either be insulated or non-insulated. Insulated steel doors maintain constant temperature within the garage's interior, which could provide additional protection to your valuables. Wood garage doors are commonly made of cedar, fir and redwood. They are usually built with layers to keep the wood from warping. Most wood doors may be paint-finished or factory-stained. They used to be seen in residential buildings as they give an aesthetic appeal to any home. But they are generally expensive and high-maintenance. Several houses are now using steel doors for their garage for purposes of practicality. Aluminum garage doors are typically low-cost and low-maintenance. They are also lighter and more rust-proof. Unlike steel doors, aluminum doors are prone to denting since they are energy-inefficient and highly conductive. Garage owners may opt for a paint finish or contemporary brushed finish. Some aluminum doors are fitted with glass panels to allow light to pass through. Fiberglass garage doors are made of double layers of fiberglass joined together by a steel frame, which is typically has a polyurethane insulated base. Fiberglass doors are also rust proof and are less likely to dent or crack. However, they are prone to damage upon impact. Like fiberglass doors, vinyl doors also combines steel with vinyl skin and have polyurethane insulated base. They are generally considered a child-friendly option since vinyl doors are dent-proof. They are low maintenance and durable.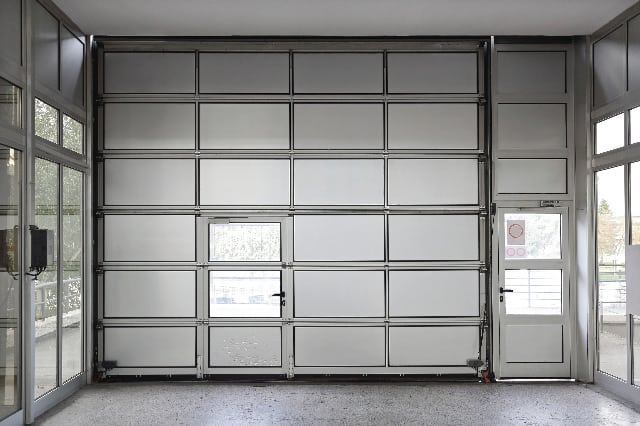 Overhead Door Mechanism
A typical overhead garage door opening measures about 7 feet in height and 8 to 9 feet wide for a single-car garage. A two-car garage can measure about 18 feet wide. Tension springs are considered the workhorse of overhead garage doors. The single-car roll-up or roller garage door comes with a rolling mechanism preloaded with a spring. The spring serves as additional lifting force that reduces human effort in pushing the door up. However, larger roller doors that are used in commercial buildings are not made of spring. Instead, they are lifted by using a manual pulley that is either motor- or chain-operated. The canopy type up-and-over garage doors have tension springs placed on top of the door panel at the head of the frame. The retractable type typically has tension springs at both sides Sectional overhead garage doors involve a different torsion spring mechanism, where one or two springs are wound up tightly on a steel shaft attached with cable reels on both ends. Cable reels or cable drums are spools where cables or wirings are stored. The entire assembly mounts above the garage door opening on the wall. When the door is opened, the springs begin to unravel and the tension starts lifting the panels, thus rotating the cable drums and wrapping the cables around. When closing the door, the cables start unwrapping from the drums and the springs wind back. Torsion springs are responsible for lifting the entire door. The springs are generally manufactured to provide up to 15,000 cycles, which is equivalent to seven years of constant use. Other manufacturers produce torsion springs that could offer as much as 30,000 cycles. Overhead garage doors are used to be operated manually. But most garage owners are now using motorized garage door openers that are operated through wall switches or remote controls. There are three types of door openers: the chain drive, belt drive and the screw drive. The chain drive is the most commonly used and most affordable option. As in a bicycle, the chain connects the trolley to the motor. For the belt drive, a belt is used in place of a chain. For the screw drive, a threaded shaft is rotated to move the trolley.
Overhead Garage Door Repair and Maintenance
Overhead garage doors are subject to wear and tear. While some issues are easy to fix, there are problems that will require you to seek professional help, especially if they involve spring and gear problems. DIY overhead garage door repair without the proper knowledge, equipment and tools may do more harm than good. Garage doors should also be given proper care. Maintenance includes checking garage doors regularly and making sure that they are operating well. You also need to make sure that all parts are in good condition and that the mechanism has proper lubrication.  There are companies that provide comprehensive garage door repair and maintenance services that are tailored to your budget. 1Choice Garage Door Repair San Antonio provides overhead garage door repair services, from repairing broken parts to replacing damaged doors panels. When broken, garage door openers may also cause accidents. If this happens, it is advisable to call the experts. The company also offers repair on broken garage door openers, specializing in all drive types regardless of make and model. 1Choice Garage Door Repair San Antonio could also run routine inspections on your garage door to make sure it's working well. During inspection, minor adjustments can be done, including spring tension, chain or belt and lubrication. The company also handles different installation requirements. Their technicians are skilled in handling different types of garage door materials, from steel doors to vinyl doors.