Sectional Garage Door
Sectional Garage Door Service By 1Choice Garage Door Repair San Antonio
What is a Sectional Garage Door?
Home owners are now considering the garage door as an important element in the overall façade of the house. Not only should a garage door be functional, it also has to look good. There are many garage door options available. In choosing the one for your garage, you will need to consider durability, design, maintenance and cost. A popular choice among home owners is the sectional garage door. Sectional garage doors consist of large, separate panels, which are positioned parallel to the ceiling. They open vertically going up, suspended just under the ceiling. This type of garage door is typically composed of up to eight sections hinged together and held in position by brackets. This mechanism allows the door to slide up and down.
How are Sectional Garage Doors Used?
Most sectional doors are operated with the use of the torsion spring mechanism, which carefully lifts the sections during operation. The springs are typically located at either sides of the door, front, back or above the door. These types of garage doors are commonly operated manually but garage owners now have the option to have it automated, with the use of garage door openers that are mostly remote controlled. Panel sizes may vary between 3 to 5 meters in height and about 8 meters in width. The door panels are typically made of steel, aluminum, vinyl, fiberglass and wood. They are also adaptable in terms of design. You may go for a paint finish or the modern metallic laminate type. Others even have the panels embossed or engraved. Sectional garage doors are being used in a wide range of garage setups. This is because sectional doors can be easily fitted into any opening. Also, they typically don't take up too much vertical space when opened. The doors don't swing out when opened. Instead, they slide and curve upwards above the opening and into the ceiling.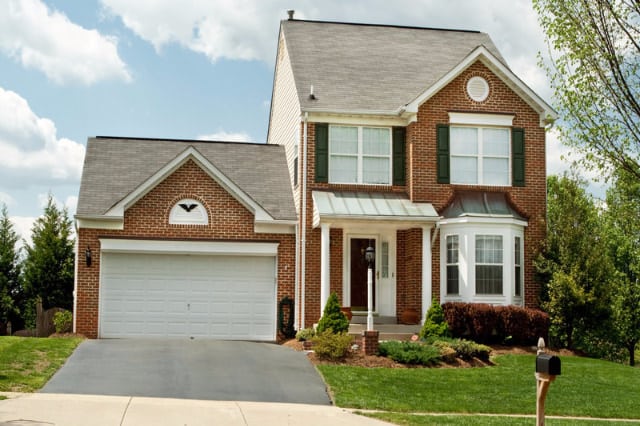 Advantages and Disadvantages of a Sectional Garage Door
Sectional doors are considered the best option for driveways with limited spaces. You don't have to move your car away from the garage when opening the door, as what happens when you have an up-and-over type of garage door. This means you can park your vehicle close while waiting for the garage door to open. When opened, sectional doors provide access to the entire drive-through height and width, which make them great options for garage owners with large vehicles. This type of garage door also offers flexibility in terms of materials used. You can choose materials that provide the functionality you need. For instance, if you want ventilation in the garage, you can opt for panels with vents. If you prefer additional lighting, panels made of glass can be a good choice. The same goes with design. Sectional doors could go well with any type of finish. You can go for any paint finishes, or even incorporate a woodgrain surface finish that will match the wood works on your garage and home. Some home owners choose a garage door design that matches the front entrance doors for a more coordinated look. This can be achievable when you have sectional garage doors, as they are highly adaptable. They can also be fitted with windows of various sizes. You can install arched windows or modern-looking steel windows depending on the look you want to achieve. If you are looking for security, sectional doors are considered to be a good option. The door panels are typically set on a strong steel framework and the door's rollers provide strong lateral support, which make this type of garage door difficult to break into. Steel doors are considered the most secure. Some sectional doors that are electrically operated and come with steel hooks that provide additional locking mechanism. The hook firmly holds the panels at the top while being held securely by the motor. Sectional doors are typically good insulators, particularly the double-skinned insulated ones. They are built to maintain the temperature within the interior of the garage. Some sectional doors come with rubber seals, which provide further insulation. This is a good option for a garage that is used as an office or a gym as the additional insulation properties could protect important equipment.
Proper Installation and Repair
In deciding for a garage door, you should also consider installation and repair requirements. Sectional doors are originally built to fit behind the garage opening. But now, new installation mechanisms have made it possible for some doors to be wedged between the garage opening. The important installation requirement is enough headroom where the door can curve and horizontal storage for the panels when the door is opened. As garage doors are used frequently, they are more subjected to wear and tear, especially those used in commercial garages. Even small creaking sounds when opened or closed could be indicative of spring problems. Other issues include difficulty in opening or closing and remote control problems. It is advisable to call a repair and servicing company to remedy the damage quickly. The sooner it is fixed, the less problems it will give you in the long run. The same goes for maintenance. There are companies that offer this type of service specifically for sectional doors. Garage Door Repair San Antonio is a company that provides installation and repair services for various types of residential and commercial setups in San Antonio and surrounding areas. The company also specializes in garage door openers, maintenance, as well as provides replacements for damaged door springs, rollers and panels. If you want to ensure quality repair and maintenance, let the experts do the job for you. 1Choice Garage Door Repair San Antonio, for instance, has years of experience handling different types of garage door models, whether it be steel doors or automated doors. Technicians are highly trained, so you are assured of quality service. One notable disadvantage of sectional doors is that they require more interior space for the horizontal runners. Since the door occupies the entire garage opening and slides up to the ceiling, owners may not be able to maximize the ceiling area for storage. Also, sectional doors are composed of several movable parts. This may present certain hazards to children. This type of garage door also offers high level of resistance against wind, as well as rain and dust. Most sectional doors are built with rubber weatherstrips fitted into the bottom panel, into the side areas of the frame and into the top panel. Lastly, sectional doors are easy to repair, especially if only one panel is damaged. Repair cost is also relatively low since you only have to fix one panel instead of the entire garage door.